We Deliver… On-Time and On-Budget


Effective pre-construction planning is crucial to the success of any project. To best accomplish this, our building process utilizes a team approach. Experience has shown that when the owner, architect, engineers, and builder are engaged in clear and regular communication early on, the result is a smoothly functioning operation that translates to a more enjoyable and cost-effective experience for our clients.
In addition to paying close attention to detail and fine workmanship, the two most important factors in any construction project are time and money. When you start a construction project with us, we will provide you with a Project Plan Binder that will include two very important documents:
• Construction Project Timeline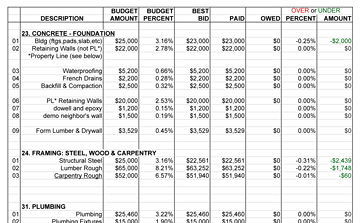 • Construction Cost Budget Spreadsheet
The careful preparation of these documents will provide you with a roadmap to the successful completion of your house construction project – on-time and on-budget.
Pre-Construction

• Review preliminary drawings; identify concerns/issues; evaluate cost-effectiveness
• Prepare pre-construction schedule and priority list
• Prepare list of project issues for review with owner, architect and consultants
• Assign tasks to project team members
• Prepare Supplemental Bid Instructions for subcontractor and vendor bidding
• Evaluate subcontractor proposals for budget review with client and architect
• Prepare preliminary construction schedule and timeline
• Prepare preliminary construction cost budget spreadsheet
• Prepare owner and contractor agreement
Construction Management / Job Supervision
• Prepare subcontractor agreements
• Prepare and maintain construction schedule and project priorities
• Communicate project status with construction team
• Maintain project budget
• Attend project team meetings with prepared agenda and meeting minutes
• Coordinate field operations with subs & vendors to assure plan compliance and quality
• Manage project shop drawings and submittals
• Maintain daily log of all project activities
• Maintain digital photo documentation
• Prepare and maintain job specific "as-builts" drawings
• Frequent job site visits to assure project components are met to the highest standards
• Timely response to owner, architect, subcontractor and inspector requests and inquiries
• Post subcontractor/vendor invoicing
• Monitor insurance policies required by owner and subcontractors
• Manage lien releases
• Coordinate project closeout and obtain Certificate of Occupancy
• Prepare warranty and operations manuals for owner
Subcontractors / Vendors
Schneider Custom Homes draws from a long established pool of qualified, quality oriented subcontractors and vendors. Companies solicited for bids are large enough to maintain competitive edge and to accommodate project demands and schedules. All subcontractor proposals are evaluated using our "current cost" database and preliminary budgets. Our goal is to bring together a team of highly qualified subcontractors at competitive rates for our clients.
Please contact us for a consultation or bid.